Voor het jaar 2023 (en de academic planner 2023-2024) mocht ik de illustraties maken. Ik ben erg trots op het eindresultaat, de planner is prachtig geworden.
De planner is nu te bestellen bij de (Amerikaanse) uitgever (Jaimie des Tombe) "Around the day" (de academic planner volgt later) Wil je weten hoe de binnenkant er ongeveer gaat uitzien dan kan je de "planner" van afgelopen jaar (geïllustreerd door Geertje Kaptein van kaptein Kalk) bekijken, De lay out zal namelijk ongeveer hetzelfde gaan worden.
Dit is de illustratie "Late Summer" er zijn nog 4 andere illustraties die ik gaande weg op de website zal plaatsen. Begin volgend jaar zullen de illustraties ook als A6/A4 en A3 kaart verkrijgbaar zijn.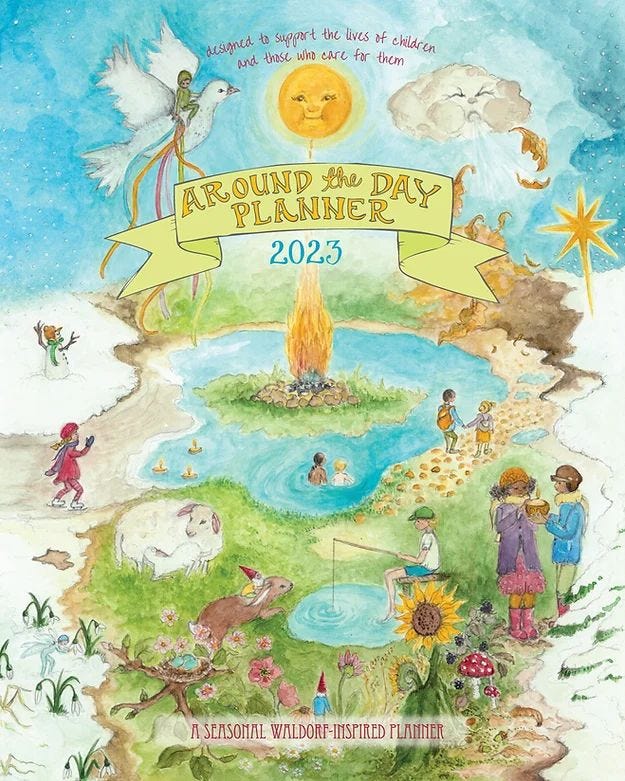 Illustrated by Dutch artist Margo Heine Slezak. Expected to ship mid-November 2022.This planner runs from January 2023- December 2023. See previous listings for layout style. More images will be added as ready.Designed to support parents, teachers and caregivers, the Around the Day planner can be used to plan life, education, or both. There is ample room throughout for lists and focus work, and within the calender spreads, plenty of space for planning everything from self-care, appointments and meals to lesson plans and student/child observations. Around the Day is proud to feature the beautiful work of Margo Heine Slezak this year.

Around the Day planner features:
- Gold wire coil bound
- 8 x10 cover
- Daily columns
-53 week spread
-12 bi-page month views
-Academic year-at-a-glance
- 4 seasonal holiday and birthday planning pages
-Plenty of extra pages for dreams and ruminations.
-5 full page original illustrations that emphasize the turning of the year and the sweetness of the seasons as captured by Margo.

Each day helps guide the user in integrating principles of Rudolf Steiner's work that teachers and families have used for generations, such as:

-Color of the Day
-Eightfold Path
-Grain of the day
-Lunar cycles
-Traditional festivals and holidays
-Weekly Calendar of the Soul verse (Han Translation w/ thanks to Steiner Books).*Shipping Note- all orders will be shipped together once weekly on Friday or Saturday. This means processing time could be a few days longer than previous orders.
2023 Around the Day Calendar Year Planner
$40.00 Regular Price $36.00 Sale Price
Quantity
Expected to ship mid-November 2022


Pre-Order
© 2017-2021 aroundthedayplanner.com